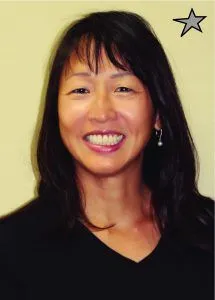 Dr. Felicia Chu received her D.D.S. degree from the University of Iowa in 1993, after completing her undergraduate studies at the University of Illinois in Urbana-Champaign. Upon graduation, she completed a general practice residency program at the Dental Clinic of Hines VA Hospital in Hines, IL. This residency enabled her to gain valuable experience working with medically compromised patients, as well as develop the skills necessary to treat a variety of complex cases.
Following her residency, she began practicing family dentistry in Elgin. She finds it extremely rewarding to be able to fill the dental needs of the entire family by performing a wide range of dental procedures including sealants, tooth-colored fillings, crowns and bridges, veneers, partials, and dentures, restoring dental implants, extractions, and root canal therapy. She prides herself in delivering all dental treatment in the most gentle and caring manner. She also finds helping others extremely rewarding. She has volunteered her time to these organizations: Greater Elgin Dental Clinic, the Elgin Junior Service Board, The United Way, YWCA, Girl Scouts, Elgin Community Dental Assisting Program, the Fox Valley River Dental Society, the Dental Department of Sherman Hospital, and TriCity Health Partnership in St. Charles.
Since 2007, she has been in charge of a program called Dentist with a Heart where local dental offices provide free dental care for 1 day in February to those who otherwise could not afford these services. She strongly believes in the importance of continuing education because it keeps her current with the latest advancements in dentistry. She has received her Academy of General Dentistry Fellowship Award.
The Fellowship Award is based upon the completion of 500 hours of continuing education and the successful completion of a written exam. She has been a member of the following organizations: Women in Management, YWCA Board of Elgin, American Dental Association, Illinois State Dental Society, Chicago Dental Society, Fox Valley River Dental Society, Academy of General Dentistry, Chicago Academy of Interdisciplinary Dentofacial Therapy Study Club, Elgin Dental Study Club and the Dental Department of Advocate Sherman Hospital. She has been the past president of the Dental Department of Sherman Hospital, Elgin Dental Study Club, and the Fox Valley River Dental Society. For fun, Dr. Chu likes to play golf, tennis, and run. She has run 9 marathons and has hit a hole-in-one on the golf course!
---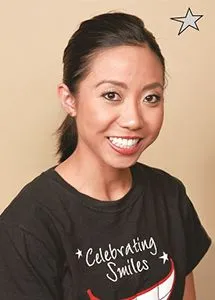 Dr. Cathy Nguyen was born and raised in the western suburbs of Chicago. After graduating high school locally, Dr. Cathy continued her education at Marquette University in Milwaukee, Wisconsin where she was a pre-dental scholar and majored in biomedical sciences. She graduated magna cum laude with a bachelor's degree from the College of Health Sciences and ultimately graduated with honors, cum laude, as a Doctor of Dental Surgery from Marquette University's School of Dentistry. Upon graduation, Dr. Cathy received an award from the Quintessence Publishing Company for outstanding clinical achievement in restorative dentistry. She also received an award from the American Academy of Implant Dentistry for outstanding achievement academically and clinically in implant dentistry.
Dr. Cathy joined the Celebrating Smiles team in 2011. She is currently a member of the American Dental Association, the Illinois State Dental Society, and the Fox River Valley Dental Society. She is an active member of the Elgin Dental Society of which she was the president during the 2013-2014, the 2014-2015 and the 2015-2016 seasons. Additionally, she stays at the forefront of dentistry with regular continuing education courses. She has volunteered for Dentist With A Heart, Head Start, Give Kids A Smile and the Wisconsin Mission Of Mercy.
Dr. Cathy enjoys and is proficient in all facets of general dentistry. Along with her clinical skills, Dr. Cathy is an effective communicator and can speak Vietnamese. She can calm an anxious child or ease a fearful patient because above all, she cherishes the relationships formed with each patient while working with them to achieve healthy and beautiful smiles.
During her free time, Dr. Cathy enjoys baking and gardening. She is also interested in fitness and loves NFL football. She enjoys watching all of the NFL teams, but of course, the Chicago Bears are her favorite. Most of all, Dr. Cathy enjoys spending time with her family and friends. She lives with her husband Peter, daughters Helen and Hannah, and cat Apollo in Glen Ellyn, Illinois.
---
Dr. Ambreen Jafri received her Doctorate of Dental Surgery Degree from New York University (NYU) College of Dentistry in 2005. To keep abreast of cutting edge technology, she's a member of the Academy of General Dentistry, the American Dental Association and the Illinois Dental Association. Dr. Jafri is committed to the highest quality dental care. She applies a caring, detailed-oriented approach to each patient's case, taking the time to solve their dental issues effectively and thoughtfully provides treatment options that are specifically designed around each client's needs.
She always encourages her patients to be involved with their course of treatment in order to achieve the best result possible. Dr. Jafri says, "Dentistry offers me the opportunity to combine my artistic skills with science and the joy of healing to bring happiness to others. My greatest pleasure is when a new patient enters feeling nervous or anxious and leaves feeling happy, relaxed, and free of pain!" She and her team deliver the most skilled dental care possible in an atmosphere of satisfaction and well-being. Her patient-centered approach to dentistry emphasizes comfort without compromise so that each visit is a great dental experience. In her free time, she loves to spend time with her husband and three children. They enjoy playing squash (racquetball) and going on family bike rides.
---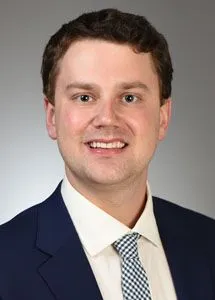 Dr. Thomas Marsho was born and raised in central Iowa. He graduated from Grinnell College with a degree in Biology and recently graduated from the University Of Iowa College Of Dentistry in June 2023 (Dr. Chu's alma mater!). He is moving to the area with his fiancé, Katie, who is from Bartlett and works as a physician assistant.
Thomas has a focus on prevention. Thomas is comfortable working with all patients- he wants each patient to feel heard and to make dental care more accessible for all. Thomas' favorite experience in dental school was a 5 week rotation at a community health clinic in Colorado. He is excited to join the Celebrating Smiles team.
Thomas enjoys spending time with his fiancé and family, visiting friends across the country, and cheering on his favorite sports teams. He is looking forward to getting to know the area and will take any and all restaurant or golf course recommendations!
---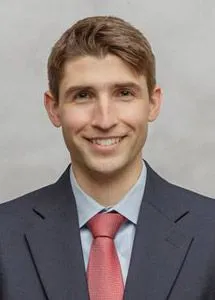 Dr. Evan Fry is a graduate of the University of Illinois at Chicago College of Dentistry. Graduating at the top of his class, he was inducted into the national dental honor society Omicron Kappa Upsilon. He is the recipient of numerous other awards, including the American Dental Education Association/GlaxoSmithKline Consumer Healthcare Preventive Dentistry Scholarship, the Albert Schweitzer Public Health Fellowship, the Dr. Caswell A. Evans Dental Public Health Scholarship, the Lina Tharp Award, the Dr. Gerson Gould and Mr. Sol. H. Gould Memorial Scholarship, the Dr. William S. Kramer Award, and the UIC Chancellor's Student Service Award.
He was recognized nationally as the first runner-up in the 2020 American Dental Association's Health Literacy Essay Contest for his article regarding oral considerations of the human papillomavirus (HPV). He was also a featured speaker at the 2022 American Dental Association national meeting in Houston.
His professional areas of interest include working with patients on both ends of the age spectrum (elders and young children), oral surgery, the environmental impact of dental materials, health economics, and prevention-focused dental interventions. He is well-versed in treating medically complex patients in partnership with their other healthcare providers, and comfortable working with patients with special needs. He enjoys making everyone feel comfortable and listened to as a dental patient.
Prior to practicing in the Fox River Valley, Dr. Fry served on the first medical and dental humanitarian team to Nicaragua since the global COVID-19 pandemic began, providing emergency and preventive dental care in remote mountainous regions of the country. Among his professional dental affiliations, he is a member of the American Dental Association, the Illinois State Dental Society, the Chicago Dental Society and its leadership development group, the Fox Valley Dental Society, the Academy of General Dentistry, the International Academy of Oral Medicine and Toxicology, and the Christian Medical and Dental Associations.
Dr. Fry is passionate about making dental care accessible to everyone, particularly marginalized and vulnerable populations. He regularly volunteers at the Chicago Dental Society Foundation clinic in Wheaton, providing pro bono care to patients with incomes less than 200% of the poverty level. He is the founder of a project in Oklahoma, working alongside his alma mater the University of Oklahoma and impact investment non-profit MetaFund, that is designing the care delivery model coinciding with the state's recent adoption of adult Medicaid dental benefits. Since the beginning of dental school, he has provided pro bono services at RefugeeOne, formerly Goldie's Place, which serves Chicago's refugee community.
Aside from dentistry, Dr. Fry enjoys spending time with his young son, running marathons, scuba diving, attending opera and fine arts events, and playing board games. He attends Hosannah Lutheran Church in St. Charles.