Erann was welcomed to the Celebrating Smiles team as a dental hygienist in June 2017. She brings over fifteen years of dental experience with her. She started her career as a certified dental assistant and fell in love with the field of dentistry. In 2003, she graduated from Rock Valley College with an Associate's Degree in Applied Science and a degree in Dental Hygiene. While working for over eight years as a hygienist, Erann decided to go back to school and attended Northern Illinois University. She graduated in 2008 with a Bachelor's Degree in Public Health. Erann's friendly, caring and gentle touch along with many years of experience will give you a very comfortable and enjoyable visit at our office. In her spare time, Erann enjoys the outdoors, hiking, traveling and spending time with her family.
---
Anna joined our team in June 2015. She is one of our full time, dual-trained employees who works as a receptionist and chairside dental assistant. Anna can also speak Spanish fluently. She brings over 15 years of experience to our Celebrating Smiles team. Anna is certified in coronal polishing and pit fissure sealants. She is also certified in OSHA and General Practitioner Orthodontics. She enjoys making people smile and making our patients comfortable at their dental visits. In her spare time, she loves spending time with her family, watching movies, cooking, reading and watching sports.
---
Angelika is a Certified Dental Assistant. She graduated from the Elgin Community College Dental Assisting Program in 2017 and joined the Celebrating Smiles team in August of 2017. Her skill set and competency are enhanced with her additional certificates in coronal polishing and pit & fissure sealants. She is fluent in both English and Polish. She is an active member of the American Dental Assistant Association. As a positive and happy person, she enjoys working and helping patients make their appointments go flawless. The most rewarding part of her job is knowing that a patient has walked out of the office satisfied with the dental services they received. Being a dental assistant is very busy and demanding work and she loves it! Her favorite part of the job is the lack of monotony; "there's always a different tooth to restore, a different patient to meet, and a chance to improve someone's smile and health". Angelika moved to Chicago from Poland where she met her husband Pete. They have two lovely kids Julia and Daniel and are expecting a baby girl. Her whole family enjoys traveling and exploring the world. She also loves dancing, movies and outside adventures.
---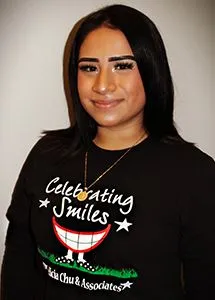 Alejandra is grateful for the opportunity to join the Celebrating Smile's team as a receptionist. She is excited to learn and expand her knowledge of the dental field. She looks forward to making long lasting friendships with her co-workers and patients. Alejandra speaks Spanish fluently and will be able to welcome you with a hello or hola when you enter the office! Activities she enjoys outside the office are spending time with her baby boy and watching movies with the family.
---
Esmeralda is one of our newest team members and is training to be a dental assistant. Esmeralda is fluent in Spanish. She is excited to start her dental career and reach her potential. Outside the office she enjoys exploring makeup ideas and giving friends makeovers. When she is not getting glamorous she likes to work out and enjoy the outdoors.









---
Stephany is a bilingual cross-trained team member since 2020. Cross-trained means you may see Stephany working as a chair-side dental assistant or at the front desk as a receptionist. She enjoys developing relationships with the patients and helping them improve their smiles. In her free time Stephany enjoys working out, going to the movies, and traveling with her family.